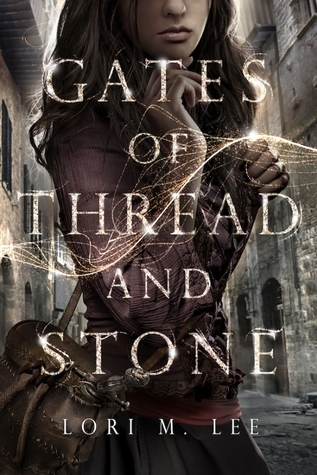 ****
In the city of Ninurta, 17 year old Kai has the ability to manipulate the threads of time but only one man, the ruler of Ninurta, is meant to possess magic. Kai has no memories from the age of 8 since her adoptive brother, Reev found her on the river bank. When Reev disappears, Kai vows to find him no matter what it takes and with her only friend Avan, she leaves the only home she has ever known. To save Reev, Kai must unravel her past and discover the secrets that everyone has been hiding.
Gates of Thread and Stone is a really good fantasy novel which was unpredictable and kept me on the edge of my seat. It has interesting mythology, action and romance. While it is a fantasy novel, it was unusual as it was dystopian fantasy world and I have never read anything like it.
I like Kai as she is a good person who is loyal and caring but is also stubborn, determined and feisty. Avan is enigmatic, protective and unlike some romantic interests has a past. I also like Reev as he was the perfect big brother and Mason and I hope we learn more about them.
It has a bitter sweet ending and I am looking forward to reading the next book, The Infinite. I would recommend Gates of Thread and stone to fans of Midnight Thief by Livia Blackburne and Threats of Sky and Sea by Jennifer Ellision.