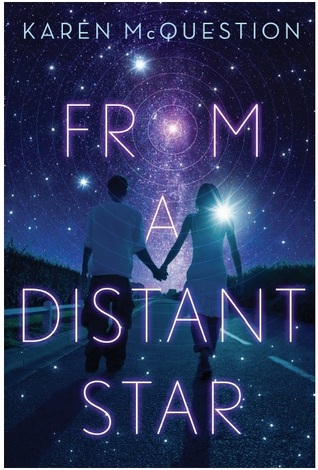 ***
Thanks to Karen McQuestion, Netgalley and Skyscape for giving me this book to review.
17 year old Emma is the only person who has not given up hope for Lucas, her boyfriend, as everyone believes that his cancer has killed him, but she is willing to do anything to save him. When Lucas miraculously recovers everyone is surprised and exultant, but Emma notices that Lucas is not the same person. However, she could have never guessed the truth, that an alien, Scout, has temporally taken over Lucas's body and is desperate to get back home. With government agents poking around, Emma and Scout set out to find help and save the boy she loves.
From a Distant Star is a likable YA sci-fi book, which is a quick read, with romance and suspense. While this book deals with some big issues it is not dark.
While I liked Emma as she was determined and never gave up, she did irritate me as she was very clingy and believed in aliens way too easily. However, I really liked Scout as he was adorable and naïve, who is just lost in a strange world and just wanted to go home. I also like Eric as he was a good kid, but I did feel sorry for him as his parents didn't believe in him. But while they did not seem the kindest parents, it must be hard for them having a son dying of cancer, and that may explain why they acted a certain way.
I enjoyed From a Distant Star and I would recommend to fans of YA sci-fi novels.