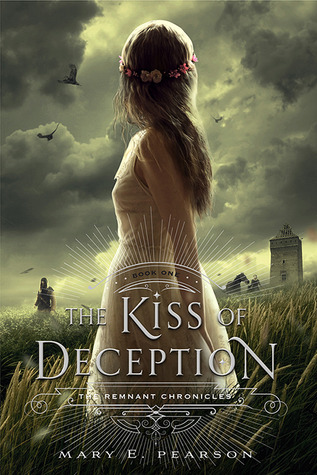 ***
Princess Lia, First Daughter of the house of Morrighan, flees on her wedding day as she doesn't want to marry someone she has never met. Wanting a new life Lia and her maidservant Pauline settle down in a distant village and becomes a barmaid and waitress. When two mysterious strangers arrive at the inn she is unaware that one of them is the jilted prince she was set to marry and the other is an assassin sent to kill her. Will Lia be able to get the life she has always dreamed of or will all these deceptions end up in disaster?
The Kiss of Deception is a likable book even though not much happens in it and it have of the story could have been cut out without losing most of the plot. Too much romance in this book and there was kind of a love triangle between Lia, Kaden and Rafe, and they developed feeling for each other way too fast. I would have liked more fantasy and magic but the second half of the book was better than the first.
I was not a fan of Lia as she was selfish because she put herself before her people and securing peace, which made it hard for me to like or respect her. The assassin irritating as what is the point of being an assassin if you won't assassinate anyone, plus why does assassin's always fall in love with their targets, if it getting a bit boring now. I think I preferred the prince because at least he did not plan what he was going to do once he found Lia, but I was also annoyed that he was not upset at Lia for ruin the peace for the two nations but mostly about his hurt ego.
Despite the many problems I have with this book, I did enjoy it and I hope the second book The Heart of Betrayal is more to my tastes. I would recommend The Kiss of Deception to fans of romance heavy YA fantasy novels.