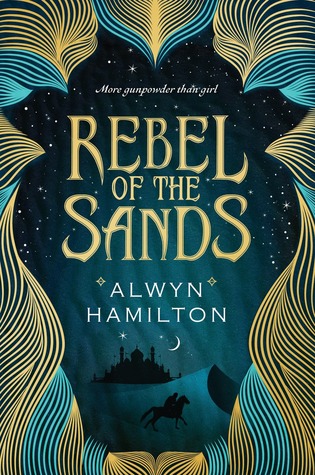 ****
Thanks to Netgalley and Faber & Faber for giving me this book to review.
In the desert nation of Miraji humans rule, but mystical beasts still roam in the wild using their magic. In the dead-end town of Dustwalk, Amani is desperate to escape before she is married to her uncle. Disguised as a boy she enters a shooting competition to get enough money to move to her dream city. While there she meets the mysterious foreigner Jin, but he is hiding a secret and is wanted for treason. Amani has no idea that her life is going to change forever in an unexpected way.
Rebel of the Sands is a very enjoyable YA fantasy novel but unlike most fantasy novels it was set in a mixture of American western and Arabian setting. It was well written and fast paced but I think it would have benefited with a map. It had adventure, romance and magic but it was a bit predictable and did drag a bit in the middle.
Amani wants to be free and to be able to make her own decisions, she is honest, has a smart mouth and a bit of an attitude. Jin is charming, keeps things close to his chest and I could not be sure of his motives but I did like the banter between him and Amani. There is a large group of secondary characters including Shazad, Bahi and Hala but because they were introduced in the second half of the book we did not get to know them too well and I hope this changes in the next book.
This is a really good book and I am looking forward to reading the sequel. I would recommend Rebel of the Sands to fans of Fire and Thorns by Rae Carson and Gates of Thread and Stone by Lori M Lee.