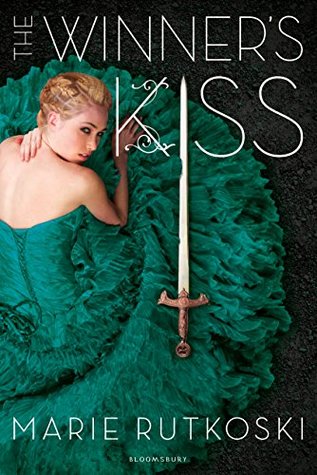 ***
Thanks to Netgalley and Bloomsbury Publishing Plc for giving me this book to review.
Arin has sailed home and is in the middle of an uneasy alliance with Dacra to wage war against the Empire to stop them from taking over Herran again. Kestrel has been discovered as a spy and has been sent to the Tundra's brutal mines, she is desperate to escape but is drugged to keep her compliant. When the war becomes more deadly, Kestrel and Arin find themselves in positions of power they did not really want and with so much to lose can anyone be a winner?
The Winner's Kiss is the likable final book in the Winner's trilogy. It had romance, action and drama but in spite of this it is my least favourite of the series. I am not sure what changed but I was not sure that I cared about how the story ended or what happened to the character.
Kestrel is proud, manipulative and loves a gamble but she also has a good heart and is intelligent, and feels conflicted about her father as he betrayed her but she still loves him. Arin is protective of his people and those he cares for, but I felt he had too much angst despite him having grown as a character since the first book. My favourite character is Roshar as he is cocky and witty but he can be serious when the need arises, making him a good friend to Arin.
I did enjoy this book even though I did struggle with it and I am looking forward to reading more from Rutkoski. I would recommend The Winner's Kiss to fans of the rest of this series.