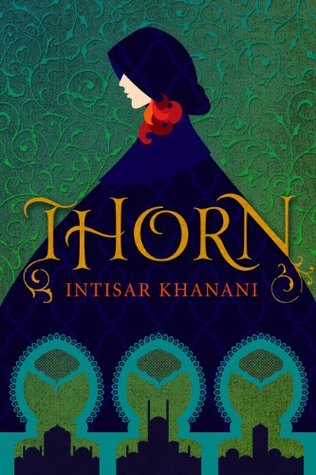 ***
15 year old Princess Alyrra has had no choices or comfort from her rank with a cruel family and the courts contempt, and now she is forced to marry a foreign prince. However, when on the journey to her new home and betrothed, she is betrayed by a magical attack and her identity is switched with another woman's but this gives Alyrra a freedom she has never had before. Alyrra starts her new life as Thorn, a simple goose girl, however, Prince Kestrin seems to be paying her more attention than the woman he believes is his fiancé. Will Alyrra choose to walk away and save her life or return to court and save Kestrin's but at the cost of her own?
Thorn is a retelling of Goose Girl, which I am not too familiar with. It is not the fasted paced novel but enjoyable, it has romance, a bit of action and some unexpected twists. The plot and story was interesting but it is not the type of story which is memorable. This book was much darker and has more serious elements than I was expecting.
Alyrra/Thorn is a sweet, quiet girl who is honest and tried to right wrong but was strongminded and likeable. Kestrin is protective of his country, suspicious of Thorn and could not figure her out and is also brave. However I found there was more chemistry Thorn and Red Hawk the Thieflord who has a sense of justice. I also liked that the villain was relatable as I understood her motives.
I liked Thorn and would recommend it to people who enjoy reading YA fairytale retellings.