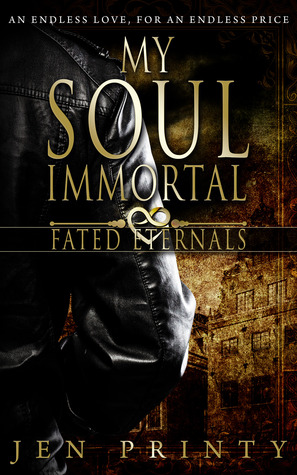 ***
Thanks to Jen Printy and Red Adapt Publishing for giving me this book to review.
Jack is always moving from one place to another because he does not die or age. When Jack moves to Portland, he meets Leah, the spitting image of the girl he loved who died over a century ago. As Jack begins to obsess about Leah, he also starts to question his sanity. When he is approached by the mysterious Artagan who claims to have information about what Jack is. As Jack and Leah grow closer, Jack realises he is putting her life in danger and will do anything to protect her and her soul.
My Soul Immortal is an enjoyable YA paranormal romance, which is romantic, mysterious and reminds me a bit of the TV programme Forever. It is interesting to have a paranormal romance novel to have to POV from a man, however, it came across to me that Printy did not fully research Britain, for example, while I am not a fan of cricket, I am fairly sure that you don't score in it and the fans don't wear jerseys.
Jack grew on me during this book, as in the beginning I could not connect to him but as I got to know him better I found him interesting, protective and caring, however, I felt he acted more like the age he looked than the age he actually was. I liked Leah as she is nice and kind although I felt she was a bit too perfect. Although I felt that I could not trust Artagan he was the most interesting person in the book.
This book ends on a bit of a cliff hanger and I hope there is another book in this series. I recommend My Soul Immortal to fans of Grasping at Eternity by Karen Amanda Hooper.