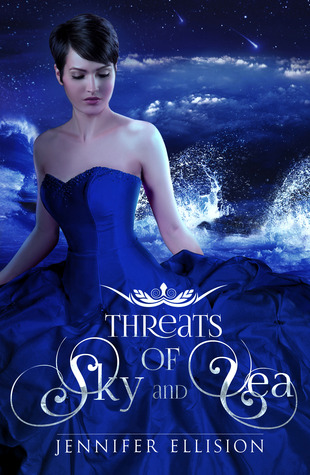 ****
Thanks to Netgalley and Patchwork Press for giving me this book to review.
Bree has lived a normal 16 years as a barmaid at her father's tavern, until her father's past catches up to them. Bree discovers that her Da was a good friend of the king but ran away after his last mission. With her father in prison, Bree is throw into a new life of politics and lies. Bree is desperate to free her father and escape but that becomes difficult when the king finds out that she is the weapon he has been waiting for. With time running out for Bree, her da and her friends, will Bree be able to unravel her past and escape from the king's grasp before she is used to destroy a nation.
Threats of Sky and Sea is a very good if predictable fantasy book, with danger, a hint of romance and magic. It was slow to start, but as we got to know the characters it quickly picked up.
I like Bree as she stands up for herself but is also kind and handles the changes in her life reasonably well, however, because she was so headstrong it caused her problems as she did not know which battles to fight and which to not. Bree's Da is a very mysterious person and even at the end of the book there is more to discover about him. Prince Caden is a charming character who is torn between loyalty to his father and what he believes is right. However, the characters which I was underwhelmed with are the villains, the king and lady Kat, as they are not original.
I saw the twist at the end I saw coming but I still want to see what happens next in Riot of Storm and Smoke. I would recommend Threats of Sky and Sea to fans of Throne of Glass by Sarah J Maas or Fireblood by Trisha Wolfe.