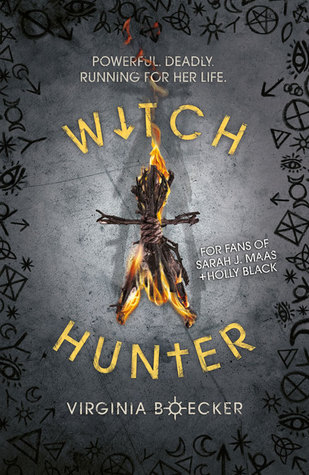 **
Thanks to Netgalley and Hachette Children's Books for giving me this book to review.
16 year old Elizabeth doesn't look dangerous but she is one of the best witch hunters in Anglia, and the price for doing witch craft is death by fire. However, when Elizabeth is accused of being a witch, she is declared a traitor and is throw in prison until her execution. Hours before death she is rescued by Nicholas Perevil, the most powerful and wanted wizard, and in return he asks her to track down the person who has cursed him. As she discovers more about the curse and about witches and wizards she begins to question everything she has known.
Witch Hunter is an OK book but I did find it hard to get into. Also while it was well written but I just did not care about the story.
Elizabeth is an annoying and dull at the same time and it felt like she had no personality, apart from at the beginning in which she is a hypocrite. However, I did like Nicholas and his group of wizards and witches.
I sure most will like this book but I just struggled a lot with it.