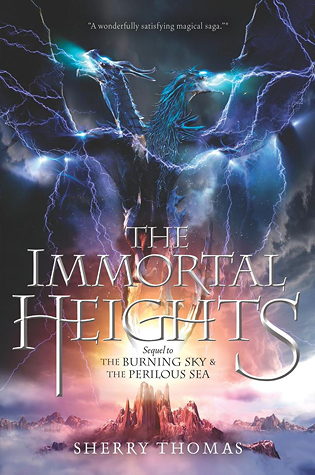 ***
Titus and Iolanthe have the seemingly impossible task of stopping the tyrant Bane. To do this they must get into his fortress, in the heart of Atlantis, to his crypt and destroy his original body. But standing in their way is the fact that they are in the middle of a battle in the Sahara and there are prophecies which have them doubting that they are able to complete their task. Will Iolanthe, Titus and their allies be able to defeat the Bane and overcome the obstacles in their way?
The Immortal Heights is the enjoyable final book in the Elemental Trilogy, however, it is my least favourite as I found it harder to get into and I generally felt underwhelmed. At some points in the book it seemed to jump from one thing to another without any explanation, but I did like that we got to see more of Atlantis in this novel as it has been an important part of the previous books. However, I did not find the romance as good and intense as the previous books.
Iolanthe is still stubborn and is determined but as the series has developed she has become more selfless and fierce, and she never gives up. Titus is what a leader and ruler should be, as he always has a plan and is intelligent but also is protective and has leant to open up to people. Kashkari plays a bigger role in this book than the previous ones, as well as his sister-in-law and unrequited love, Amara, and they prove themselves to be loyal friends and willing to sacrifice themselves for the greater good.
The ending was predictable but I still enjoyed this book and series. I would recommend The Immortal Heights to fans of the first two books of the Elemental Trilogy, The Burning Sky and The Perilous Sea.