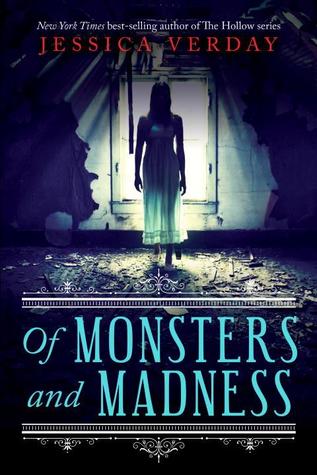 ***
Thanks to Edelweiss and Egmont USA for giving me this book to review.
Annabel Lee has been summoned to her father's house in Philadelphia from Siam in 1826, to live with her father who is more interested in his mysterious work and her caring Grandfather. Both of her father's assistants seem to be interested in Annabel, the sweet Allan Poe who writes sinister poems and his cousin Edgar Poe, who is bad-tempered and mocking. However, recently in Philadelphia there has been a string of gruesome murders and Annabel is struggling with questions, what is her father doing in his lab, and is someone in the house responsible for the murders?
Of Monsters and Madness is a fast paced historical paranormal novel, which I liked, even though I am not familiar with Poe's work, as it was creepy, but I did find it a bit predictable. However, I did not enjoy it as much as Verday's other books The Hollow series.
Annabel is a really likable character as she was nice and sure of what she wants in life, but also had insecurities as she really wants her father's approval. Allan was a sweet love interest but was a bit forgettable, unlike Edgar who was creepy and I could not guess if he was bad or if he was just misunderstood.
While not as good as The Hollow trilogy this book is enjoyable and I hope there is another book. I would recommend Of Monsters and Madness to fans of A Breath of Frost and Verday's other books.