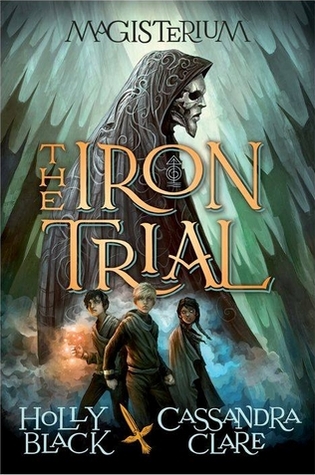 ***
Thanks to Netgalley and Random House Children's Publishers UK for giving me this book to review.
Call has been bought up by his father to believe that the Mages are evil and selfish, and are the reason that his mother was killed. When he unwillingly takes part in the trial for the magic school, magisterium, he does everything he can to make sure he fails, however, he is unexpectedly by the most sought after Master. As Call learns magic and grows close to the two other students of Master Rufus, Aaron and Tamara, he does not know who to believe, his father or the Masters. However, The Enemy of Death, the chaos mage who killed his mother and others, is seemingly growing in strength and testing the treaty, but does Call have an unknown connection to him?
The Iron Trial is a tween fantasy book which is full of action and unexpected twists which kept me interested, and it did not feel like it was written by two authors. While this book is not a copy of Harry Potter, it is very similar, for example three friends, 1 girl and 2 boys, at a school of magic, with an evil mage threatening them.
Call is definitely not a perfect hero, he is sarcastic, confident, and a bit annoying but this is just a front as he feels very vulnerable and unsure of himself. Aaron is a good and loyal friend to Call, but as the series continues it will be interesting to see how he handles the pressure. Tamara is smart, a bit of a know it all and has the worry of living up to her family's expectations.
The Ending has a twist I did not see coming and I am looking forward to the next book The Copper Gauntlet. I would recommend The Iron Trial to fans of Harry Potter and Artemis Fowl.