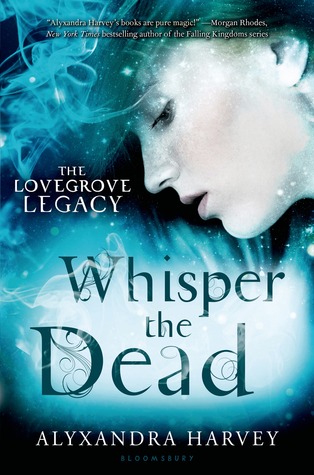 ***
Thanks to Netgalley and Bloomsbury Publishing Plc for giving me this book to review.
The Lovegrove Cousins, Gretchen, Emma and Penelope, are adapting to their new powers but Gretchen is struggling because she is a Whisperer, which means she can hear other witches spells, but as she cannot control it, it makes her head feel like it is going to explode. Due to what happened with the Greymalkin sisters, the Keepers do not trust them and are watching them. The Keeper watching Gretchen is the rule abiding yet alluring Tobias Lawless. Magic is acting up in Mayfair with bones going missing and evil is stirring. As Gretchen tries to master her powers and to discover what is happening in London, will the cousins be able to prevent disaster?
Whisper the Dead is an enjoyable second book in the Lovegrove Legacy series which is an action packed YA historical paranormal novel. I don't know what it is about this series but I just cannot get into it as much as I did with Harvey's other books.
Gretchen is a strong, fierce character with a mind of her own but she came across to me as being too modern for the time this book was set, which makes her feel like a unrealistic character. On the surface Tobias comes across as a controlled and arrogant follower of the rules but underneath he is protective, kind and very loyal. It was nice to see Emma and Cormac in this book and I hope we get to know Penelope better in the next book.
This book is a fun paranormal novel with a cliff hanger ending so I am looking forward to the next book. I would recommend Whisper the Dead to fans of the first book A Breath of Frost.